IN THE NEWS................
Whangarei vintage motor parts auction draws an enthusiastic crowd
1 Aug, 2017 6:00am
An auction for vintage items from an iconic Whangarei business attracted huge interest and raised more than $60,000.
Whangarei Traders and Auctions auctioned the contents of a large shed full of Normans' Motors property on Sunday.
Darryl Penrose from Whangarei Traders and Auctions said he had a higher level of pre-auction online interest than for any other auction he'd held.
Pete Norman, selling the remains of the 90-year-old family business, said there was a vast variety of goods, including hubcaps, lights, lenses, switches, tools, spark plugs, gear boxes, glass cleaner and much more, including old vehicles.
Mr Penrose said a rare 1934 Chrysler Airflow didn't sell at auction, but went to a bidder for $15,000, plus buyer's premium, after the hammer went down.
A Diamond T bus went for $7500.
He said the price of some items was way more than expected, with a pallet of spark plugs expected to go for $100, fetching $1200.
There was interest from around New Zealand and even overseas, with one man driving up from Wellington and returning with a station wagon full of items he bought.
Photographer John Stone went along to the auction.
Pete Norman surrounded by the vintage Norman Motors items up for auction. Photo/Michael Cunningham
Massive auction for old Norman Motors equipment
3 Jul, 2017 6:00am
An auction for vintage items from an iconic Whangarei business is attracting huge interest online.
Whangarei Traders and Auctions is auctioning the contents of a large shed full of Normans Motors items at the end of the month.
Auctioneer Darryl Penrose put a post on his business' Facebook page last Saturday with some pictures and he said that post had already had 120,000 views.
In one week, the business' overall Facebook page has gained 350 new likes.
"I'm getting 20 emails every time I've turned my computer on to be added to the catalogue database."
He said it's getting more interest than the Reva's and Shotgun Betty's auctions he has held in the past.
"I've never seen that (level of interest) before."
Norman Motors' Pete Norman said there is a "vast" variety going up for auction. Items include hubcaps, lights, lenses, switches, tools, spark plugs, gear boxes, glass cleaner and much more, including old vehicles.
Mr Norman and his wife bought the business in 2011 from his father and moved into a purpose built building. They needed somewhere to store the parts his father wanted to keep so they leased the shed the parts are currently in.
Two and a half years ago, Mr Norman's father passed away.
"We're paying for a lease on the shed to store the stuff, it's better to be in somebody's possession who wants it."
He said it "is and it isn't" tough to be selling it.
"There's stuff here that I would love to keep, and there are memories."
Mr Norman worked alongside his father for more than 20 years.
He said the business was started 90 years ago, and most of the stuff being auctioned would have been collected by his father and grandfather.
Mr Norman said he thinks most of the items will be "valuable in the possession sense rather than the monetary sense".
Mr Penrose said his website crashed the night after he made the Facebook post, and when he went into the back of the website, the analytics showed a huge increase.
He said when he starts emailing antique and vintage clubs he expects he will get more interest from all over the country and around the world.
"I think there will be people travelling up here for it and just to get the rare parts."
He said he has one enquiry from a person in America who is interested in the bus, but he expects he will get more international interest. Mr Penrose said he expects the vehicles to be popular.
Two of those are a Diamond T bus and a 70-year-old Chrysler Airflow.
Some parts, although old, are brand new, and still in boxes. "They don't make these parts anymore."
He said people would usually have to go to swap meets or wreckers to find the same parts. Mr Penrose is hoping to keep the number of auction lots under 500.
"If it goes over that I would make the lots bigger."
He said he can get through about 100 in an hour, so there is 4 to 5 hours of auctioning.
He started the cataloguing on Tuesday and expects it will take just over two weeks - the longest he has ever done.
"I like to have the catalogue released a couple of weeks before the auction."
The auction will be held on July 30 on site at 10am, with viewing available the day before.
IN THE NEWS.........
People still seek to buy at auctions
By Mike Regan
1:43 PM Wednesday Mar 30, 2016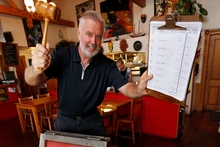 Having a gavel and an auctioneer's license has created a business opportunity for Darryl Penrose.
Whangarei's last auction house, Thomson and Bagley, may have closed recently but there's still room for old-fashioned auctions, says Mr Penrose.
He and wife, Paula, were running Thomson and Bagley but owner Dave Hodson became ill and closed the business.
Now they have set up Whangarei Auctions and will auction either on site or in short-term lease buildings. Their first major auction will be the chattels from long-established restaurateur Reva Meredith's Town Basin restaurant and bar Reva's, on April 17. The auction will be at the restaurant.
"Since Thomson and Bagley closed I've had a lot of people ask if we could sell their stuff, especially antiques."
He wishes anyone wanting to set up an auction house in Northland "good luck" because of the pressure from online sites such as Trade Me. However, he said he believes there is room in the marketplace for pop-up auctions on a casual basis.
"We may rent a venue for a month, perhaps only two weeks or even just for one auction then have a break and move on to the next auction."
The Penroses have set up a Facebook page and say they have had more than 7000 "likes" on the Reva auction and they have had thousands of hits on their website, including interest from Auckland, liquidators as well as local interest.
They will also look at auctions outside of Whangarei, saying they are considering an auction in Kerikeri.
And a last word from Mr Penrose on the auction at Reva's at the Waterfront: "If you're late you probably won't get in."
- If you have any business news, tips or ideas contact me at biz@northernadvocate.co.nz or (09) 470 2838.
By Mike Regan, Northern Advocate.
http://www.nzherald.co.nz/northern-advocate/business/news/article.cfm?c_id=1503446&objectid=11613966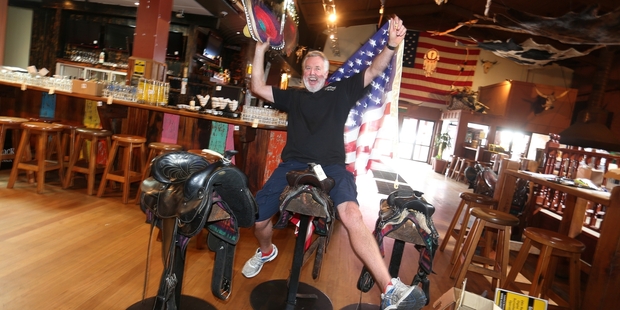 Darryl Penrose of Thompson Bagley Auctions will put the curious contents of Shotgun Betty's Bar and Grill under the hammer this weekend. Photo / Michael Cunningham
If you're in the market for stuffed bison heads, cow hides, saddle stools, pole dancing poles, three buckets of condoms and more Clint Eastwood memorabilia than you can shake a stetson at, you'll find them when the bizarre contents of a Whangarei bar go under the hammer.
With Shotgun Betty's Bar and Grill now under receivership with PricewaterhouseCoopers, Thompson Bagley Auctions has been instructed to sell a host of Wild West paraphernalia and the whole kit and caboodle of the Tex-Mex venue on Vine St.
It will be standing room only, with no space for a spit bucket, when the auction kicks off at 10am on Sunday.
A hog-killin' time is sure to be had, according to co-owner of the Port Rd auctioneers, Darryl Penrose, who said buyers were expected from Auckland and beyond as the contents included a huge range of Western-themed art and collectibles.
Lassoes, cowboy boots and US flags still adorn the walls of the bar, while cow hides droop from the ceiling. Three ice-buckets of unused condoms - from the men's room vending machine - are placed on one of the tables, ready for auction too.
By hook or crook, all 400 lots of items must sell - including the two pole dancing poles still mounted in the dance floor where, no doubt, many a young maiden shimmied up over the two-year lifespan of the Shotgun Betty's nightspot. Lighting, sound equipment and all electrical items from the bar and kitchen were up for grabs, with the museum of Western curios.
"There are lots of retro items for sale too and the auction would be ideal for anyone in catering, or someone looking to fit out a bar or cafe," said Mr Penrose. "There's even a blow up ring with gigantic boxing gloves."
He was unable to put a final price tag on the thousands of items that buyers could snap up, but said photos of the pieces, which took him about 120 hours to catalogue, were uploaded to his company website. The venue's former owner, Trevor James, told the Advocate earlier this month that tougher drink-driving laws and youth unemployment were the reasons behind the closure of the venue at the beginning of November.